What are micro-credentials and digital badges?
How can we add a program to UpskillOK?
Request State Regents Approval of a New Micro-Credential Program
Institutions now have the ability to request State Regents endorsement for micro-credential programs, which incorporate career-focused activities, professional development and/or credit bearing and non-credit courses. Micro-credentials can also be shaped in collaboration with local employers to meet specific workforce needs or to develop students' skills in Innovation and Leadership, Global Competency, or Career Preparation. Examples of micro-credentials could include:
Student research, transformative, and experiential learning activities
Skills-focused professional development from such providers as Coursera
Industry-academic partnership programs
Micro-credential programs can be stand-alone or embedded within other existing approved programs.  Institutions seeking to include a micro-credential on the statewide UpskillOK.org inventory must submit a Request Form for New Micro-Credential Programs.  Once received, State Regents' staff will review the request to ensure compliance with the policy definition for a micro-credential and submit a recommendation to the Chancellor for approval. Approved Micro-credentials will be listed on the searchable database here at UpskillOK.org.
All micro-credential and other programs approved for listing through UpskillOK must be recognized through one or more digital badges, which can be self-hosted by an institution or created and hosted by the State Regents at no cost to the institution or learners.
Request to Add an Existing Approved Certificate or Degree Program
Institutions may request to advertise whole existing approved career-focused certificate and degree programs through https://UpskillOK.org.  All UpskillOK-listed programs must award at least one digital badge, which may be hosted by OSRHE or self-hosted by the institution.
If an institution wishes to advertise one course or a set of courses/activities embedded within existing approved certificate or degree programs as an individual program offering on https://UpskillOK.org, a Request Form for a New Micro-Credential Program will be required for each offering.
Adding Programs to UpskillOK in Five Steps
Step 2 – State Regents Review:
State Regents staff review the new or existing program request and (if applicable) the associated badge template worksheet, either returning them to the institution for modification or forwarding for approval.
Step 3 – (For New Micro-credentials) State Regents Approval Notification:
The State Regents Vice Chancellor for Academic and Student Affairs notifies the institution via electronic letter that the new micro-credential program is approved pending ratification at the next State Regents meeting.
Step 4 – Add Program and Badges to UpskillOK:
State Regents staff list the new or existing approved program at UpskillOK.org.  If the program's badges are hosted through OSRHE's Credly profile, the institution's designated issuer is notified upon publishing of the new badge(s) to their collection.
Step 5 – (For New Micro-credentials) Final Program Approval Ratification:
The new micro-credential program approval is formally ratified at a subsequent State Regents meeting.
What's a Digital Badge?
Digital badges help your learners share the skills they have earned and employers to verify those documented achievements independently. See the image at right of a sample badge and the information it provides about its earner.
When an earner shares a digital badge with an employer, it helps them to:
Verify the Credential's Authenticity and Issuer
View Credential Title and Description
Identify Candidate's Relevant Skills
View Candidate's Completed Work
Discover Additional Program Information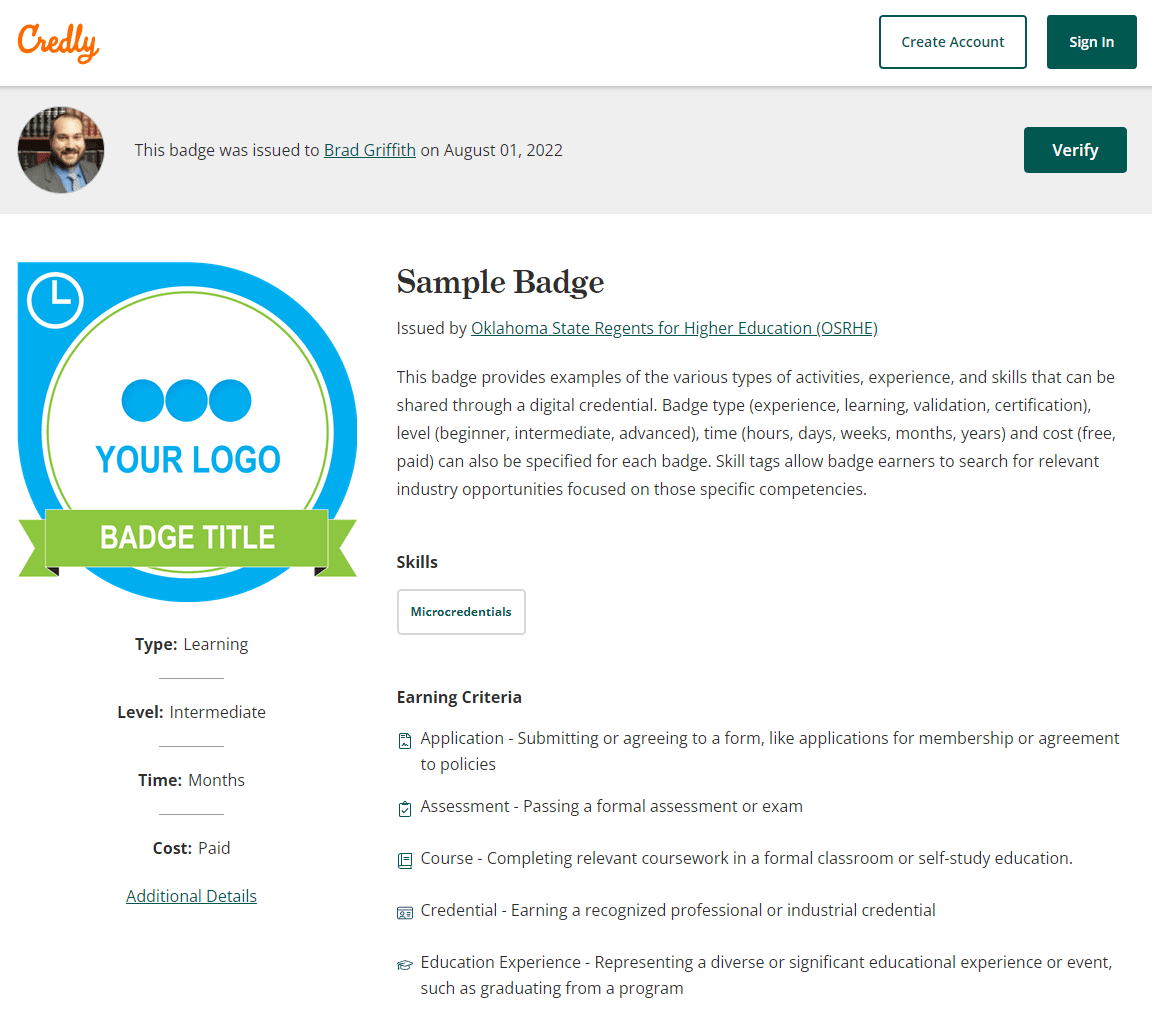 Search Our Talent Directory!
Use our Talent Directory, powered by Credly, to connect directly with earners of UpskillOK credentials! You can search by badges earned or specific skills needed to find the next valued member of your team.