What's a Digital Badge?
Digital badges help you share the skills you have earned and employers to verify those documented achievements independently. See the image at right of a sample badge and the information it provides when you share it.
When an earner shares a digital badge with an employer, it helps them to:
Verify Your Credential's Authenticity and Issuer
View Your Program's Details
Identify Your Documented Skills
View Your Accomplishments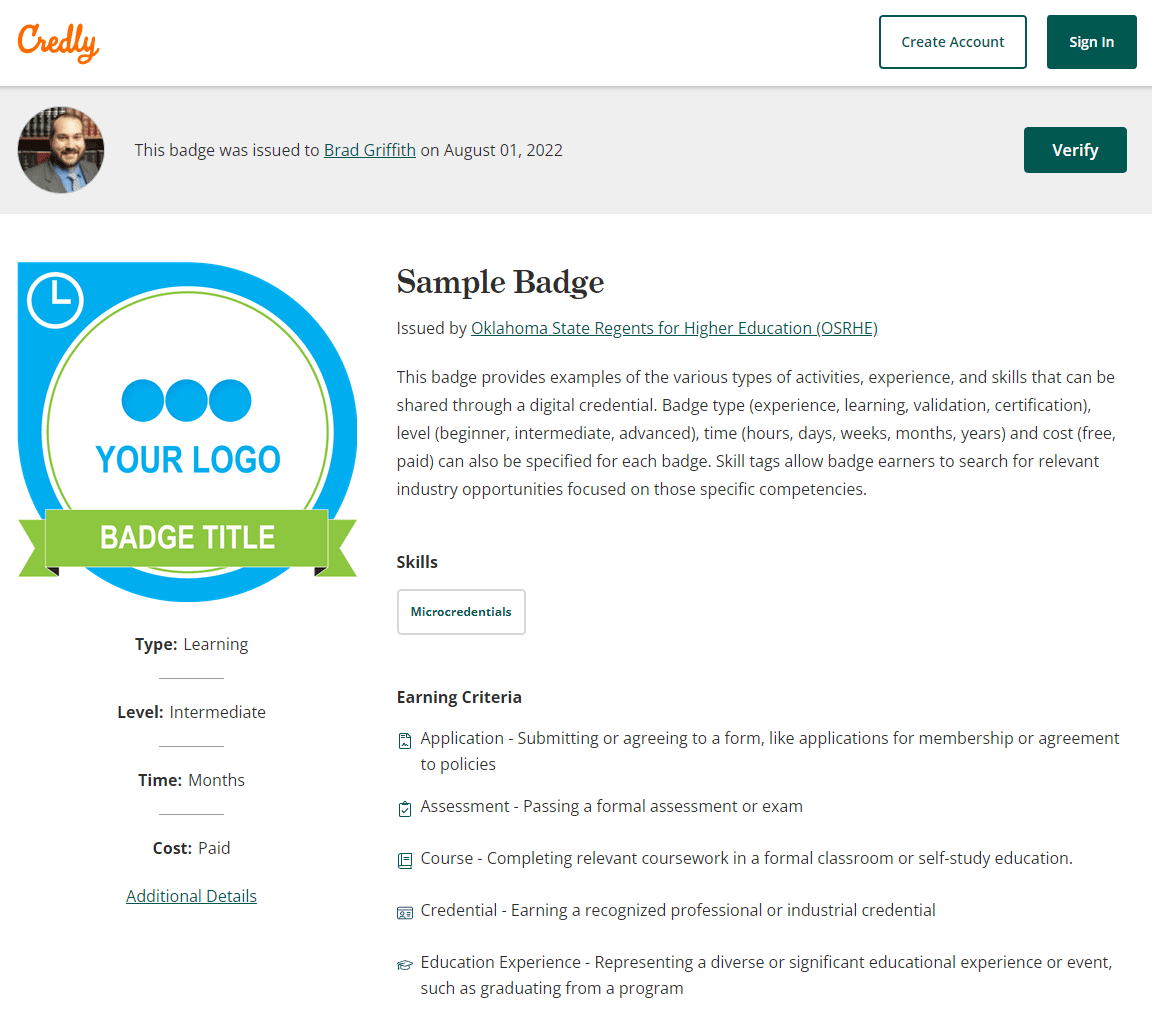 If you choose not to immediately share your badge, you can log in to your Credly account at any time to access and share your badges. To do so, you must:
Select the badge you'd like to share.
At the top of the page, select the "share" button.
You will be brought to the "share badge" screen where you can find different tabs directing you to connect your social media accounts and share your badge.
There are several ways you can share your digital badge. Once you are logged into your account and have navigated to the Share Badge screen, you will see the following sharing options:
Social media (Facebook, Twitter, LinkedIn, and XING). Select one of these social media platforms and click to connect. You will be prompted to log in to your account.
Email. Select the email tab and you will be prompted to create a message with the subject line "View my verified achievement from the Oklahoma State Regents for Higher Education!"
Link. Select the link tab to copy the badge URL. This URL can be shared on a resume, e-portfolio, website, etc.
Embed code. Select the embed tab, then copy and paste the code to display your digital badge directly on your webpage, blog or anywhere else that accepts HTML.
Download. Select the download tab to download your badge to your computer or other device.
Print. Select the print tab to download a printable certificate that showcases your badge (please note that this option is not available for all badges).
For more information on ways to share your digital badges, please visit the Credly Help Center.
You can choose to make your Credly profile - and your individual badges - viewable to the public or viewable only to you. To manage your privacy settings, log in to your Credly account.
To manage profile privacy:
Click the profile icon in the top right corner of the page.
Select "settings."
Select "profile" from the menu on the left.
Check or uncheck the "make profile private" box toward the bottom of the screen.
To manage badge privacy:
From your dashboard, select the badge you'd like to manage.
From the top of the screen, select the "more" icon.
Select "make badge private."
Please note that if you'd like to share either your profile or a badge, they must be marked public.
Digital Badging Frequently Asked Questions
A: Digital badges are web-enabled versions of a credential, certification or learning outcome which can be verified in real-time, online.
A: OSRHE and many Oklahoma institutions have partnered with Credly to translate the learning outcomes you've demonstrated into a badge, issued and managed through digital badging platform. The technology Credly uses is based on the Open Badge Standards maintained by IMS Global. This enables you to manage, share and verify your competencies digitally. Some institutions might issue badges independently through other platforms such as Badgr.
A: Representing your skills as a badge gives you a way to share your abilities online in a way that is simple, trusted and can be easily verified in real time. Badges provide employers and peers concrete evidence of what you had to do to earn your credential and what you're now capable of. Credly also offers labor market insights, based on your skills. You can search and apply for job opportunities right through Credly.
A: You will receive an email notification from Credly (admin@credly.com) with instructions for claiming your badge and setting up your account.
A: You can easily configure your privacy settings in Credly. You're in complete control of the information about yourself that is made public.
A: No. This is a service we provide to you, at no cost.
A: While badges are simply digital image files, they are uniquely linked to data hosted on Credly. This link to verified data makes them more reliable and secure than a paper-based certificate. It also eliminates the possibility of anyone claiming your credential and your associated identity.
A: You can share your badge directly from Credly to LinkedIn, Twitter, and Facebook; over email; embedded in a website or in your email signature.
A: Labor market insights are pulled from live job requisitions. Based on your skills you can learn which employers are hiring, what job titles you might be qualified for, salary ranges and more. Search active job listings and even apply for them with just a few clicks through Credly. Access the labor market insights from your badge details page by clicking on Related Jobs, or by clicking on the skill tags assigned to your badge.
A: Yes, you can download your badge from the Share Badge page. Your downloaded badge contains Open Badge Infrastructure (OBI) compliant metadata embedded into the image. This allows you to store your badge on other OBI-compliant badge sites, such as the Badgr Backpack.