Connect with candidates and programs to meet your hiring needs
Partner with Oklahoma colleges and universities to offer unique training and development opportunities to upskill your organization's talent. Connect with skill-verified candidates who have earned a micro-credential designed to meet ever-emerging demands in the workplace.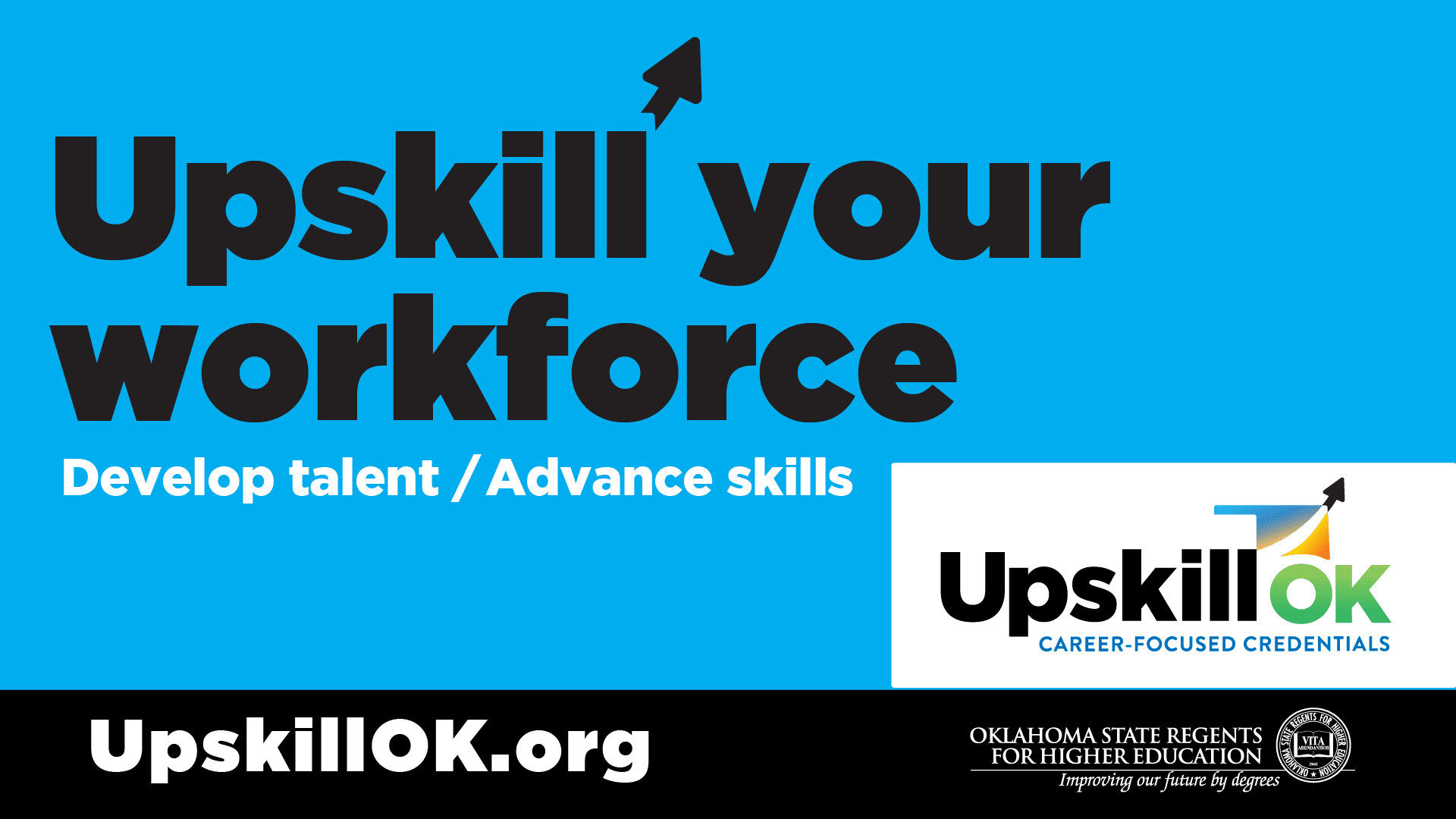 Are you retraining?
Micro-credentials can help you expedite the learning process for current and potential employees by partnering with the programs, faculty and resources that already exist at our institutions, but in a new, rapid and innovative capacity.
As your needs continue to evolve, you can work with our institutions to develop stackable opportunities for continuous development, resulting in valued industry credentials, certifications and 21st century skills necessary for all professionals. How might micro-credentials impact your personnel goals?
Are you hiring?
Work with us to help you find talent with proven expertise.
Are you retaining?
Work with us to advance the skills of your current employees.
Either way, you have a partner in Oklahoma higher education!
Become an internship or apprenticeship site
Work with us to build micro-credentials that meet your hiring needs
Suggest skills-based badges and micro-credentials we can create
Let us know the industry-recognized credentials you value most
Learn more about the competencies validated by a micro-credential
Endorse a micro-credential and commit to interviewing candidates
Share your knowledge and expertise!
Reduce your hiring costs by quickly identifying talent
Verify the skillsets of potential employees, at a glance
Tap into a skilled hiring pool
Aid in talent retention through upskilling and reskilling your employees
Issued by a trusted higher education institution with assurance of quality
Program Levels for Every Employment Need
The Oklahoma State Regents for Higher Education and Oklahoma institutions offer granular, skill-based micro-credentials via digital badges.
Badges are earned by completing multiple levels of activities. Learn about the levels and framework below, or explore a sample badge.
What's a Digital Badge?
Digital badges help today's professionals share the skills they have earned and employers to verify those documented achievements independently. See the image at right of a sample badge and the information it provides to you about its earner.
When an earner shares a digital badge with an employer, it helps you to:
Verify the Credential's Authenticity and Issuer
View Credential Title and Description
Identify Candidate's Relevant Skills
View Candidate's Completed Work
Discover Additional Program Information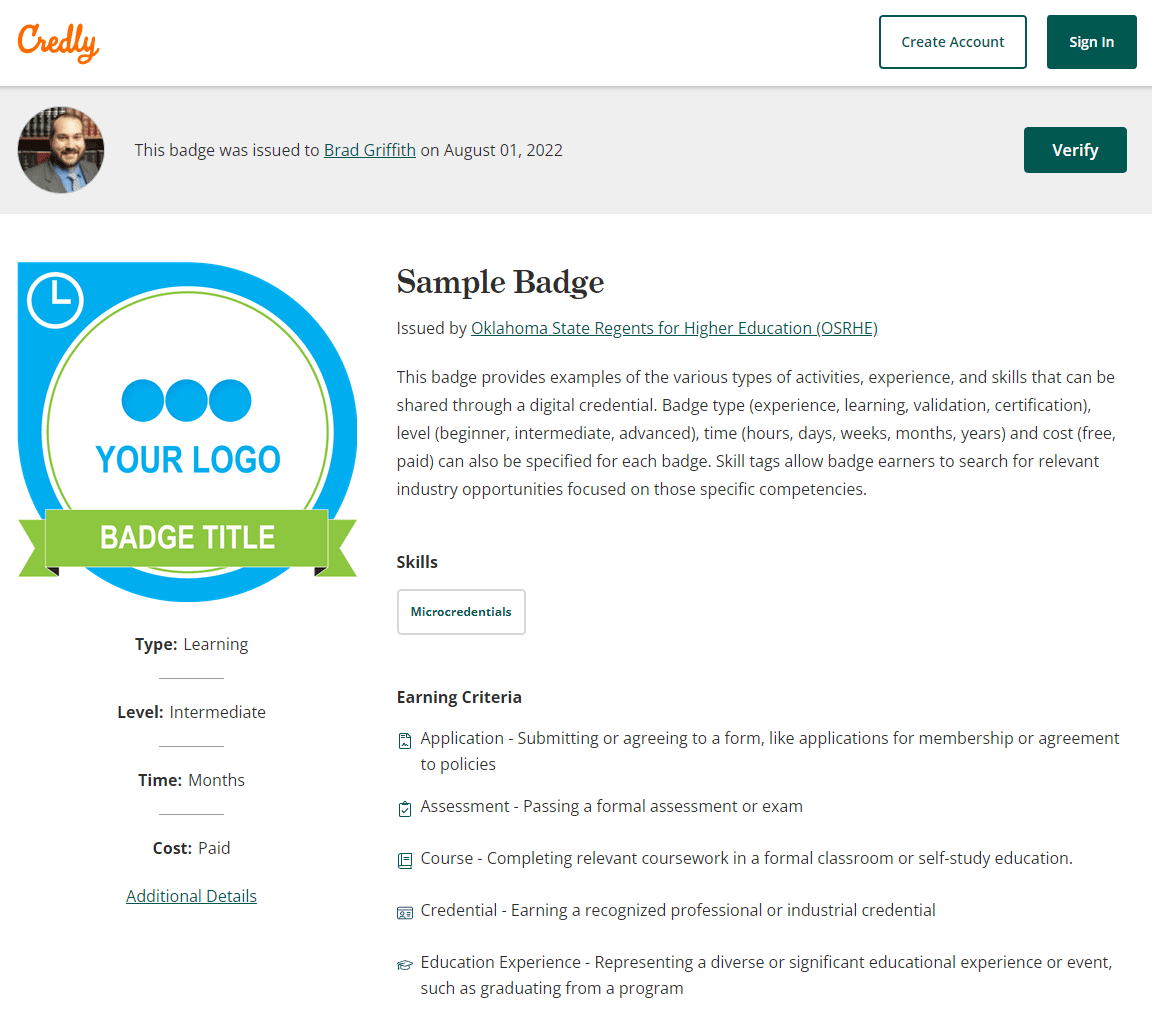 Search Our Talent Directory!
Use our Talent Directory, powered by Credly, to connect directly with earners of UpskillOK credentials! You can search by badges earned or specific skills needed to find the next valued member of your team.
View Our Employer Toolkit!
OSRHE provides a toolkit just for employers, which connects you with numerous resources including UpskillOK!
Contact Us
If you are interested in partnering with one of our colleges or universities on a micro-credential program, please send us a message by completing our Employer Interest Form. Other inquiries and questions may be forwarded to badges@osrhe.edu.